Businesses Promoting
NC Products
These traditional and online businesses offer many NC made products including crafts, food, literature, home products, and music. We welcome feedback on these businesses. To be on this site, please go to Join MINNC.

Codes:
1 - Primarily North Carolina products (85-100%)
2 - Strong N.C. presence (45-84%)
3 - Some N.C. products (25-44%)
4 - Limited NC products (10-24%) due to the nature of the business, but makes a strong effort to carry NC products and display them as NC produced.

---
Featured Gourmet Market & Tea Room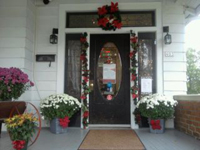 Afternoon Tea at Mrs. Lacy's Magnolia House too 1 (Sanford) - This new gourmet market and tea room is doing it right by specializing in products made in North Carolina.  Products include Cackalacky Hot Sauce (Chapel Hill), Yah's Best (Huntersville), Bakers' Southern Traditions (Roxobel), Gallolea Pizza Kits (Asheville), Carolina Candy Co. toffee (Wilmington), and Tuff's Barbeque (Sanford).  It also carries paintings, pottery and handmade cards by Sanford's local artists plus tea cozies, mother daughter aprons, and hand painted scarves.
Featured Home Furnishings Company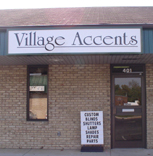 Village Accents 2(Burlington) Since 2001, Village Accents has been selling custom shutters, blinds, shades, etc. They carry shutters and wood blinds from Southern Custom  Shutters (High Point) and faux blinds from Raven Rock Mfg. (Dunn).  Village Accents also makes their own custom draperies, bedding, pillows, etc. The store is located at 2260 S. Church St., Burlington, NC 27215. Owner: Steve Clapp. Phone: 336-222-8899.
---
Art Space Gift Shop 1 (Raleigh) The gift shop mostly features North Carolina arts and crafts.
Ashe County Cheese 1 (West Jefferson) This company produces and sells its own cheese and butter. They have a store and online site. They also sell other locally produced products.
Carolina Sauce Company 2 (Durham) This online company sells food items like sauces, salsas, seasonings, and snacks.
Carolina Basket Creations 3 (Concord) This online site sells gift baskets.
Carolina Country Store 1 This is a great listing of products made in N.C. courtesy of Carolina Country magazine.
Carolina Creations 2 (New Bern) The store and online site sell fine art and contemporary crafts.
Carolina Harvest 1 (Greensboro) The online company primarily sells food and agricultural products.
Fancy Crafts and Granny Hollow Pottery 2 (Wadesboro) This store carries some North Carolina pottery, gifts, and wine.
General Store: N.C. Dept. of Agriculture and Consumer Services - This is a directory of N.C. agricultural goods and services. Go directly to the producers of the products 1, or some of the stores that carry their goods 2!
Green Hill Center for North Carolina Art 1 (Greensboro) The gallery shop carries North Carolina arts & crafts, and some items for children.
Museum of the Cherokee Indian Store 3 (Cherokee) This is the gift store and online site for the museum.
N.C. Crafts Gallery 1 (Carrboro) The gallery carries North Carolina arts and crafts.
North Carolina Gift Baskets 2 (Lewisville) This online company sells gift baskets.
North Carolina Farm Fresh - This is a directory for finding North Carolina agricultural goods. Go directly to the farms 1, farmer's markets 2, nurseries 1, and garden centers 2.
NC Mountain Made 1 (Franklin) The store carries western N.C. arts and crafts. They're located at 36 E. Main St.
N.C. Museum of History Shop 2 (Raleigh)The Museum Shop is located at the N.C. Museum of History and features an impressive selection of North Carolina crafts, such as handmade pottery and jewelry. Other N.C. related products include specialty foods, children's toys, men's ties, books and more. All profits from Museum Shop sales support the programs and educational projects of the Museum.
Our State Store 1-2 Our State Store is a part of Our State magazine, and has an online store and catalog. It features North Carolina-inspired items including jewelry, books, clothing, and various other gifts.
Piedmont Craftsmen 2 (Winston-Salem) The store and online site carry fine arts and crafts.
Southern Highland Craft Guild 2 The Guild has 3 stores in North Carolina and an online site. They sell arts and crafts. The shops include Allanstand Craft Shop at the Folk Art Center in Asheville, Guild Crafts in Asheville, and Parkway Craft Center in Blowing Rock.
A Southern Season 2 (Chapel Hill)
A Southern Season was started in in 1975. It is a store, restaurant, cooking school, and online site. It carries food, gifts, gift baskets, and cookware.
State of North Carolina Stores 1-2 The State has 9 stores/online sites. They include:
Bentonville Battlefield - Four Oaks
Berry Towne Crafts - Goldsboro
NC Geological Survey Shop - Raleigh
NC Forest Service - Various Locations
NC Historical Publications Shop - Raleigh
NC Maritime Museum - Beaufort
NC Wild Store - Raleigh, Corolla, Pisgah Forest
Stecoah Valley Cultural Ars Center Gallery 1 (Stecoah - Robbinsville) The gallery carries a variety of North Carolina products including arts, crafts, books, and soaps.
Yadkin County Craft Guild Gallery Shop 1 (Elkin) The gallery carries North Carolina (and some Virginia) arts and crafts.
-- back to home --